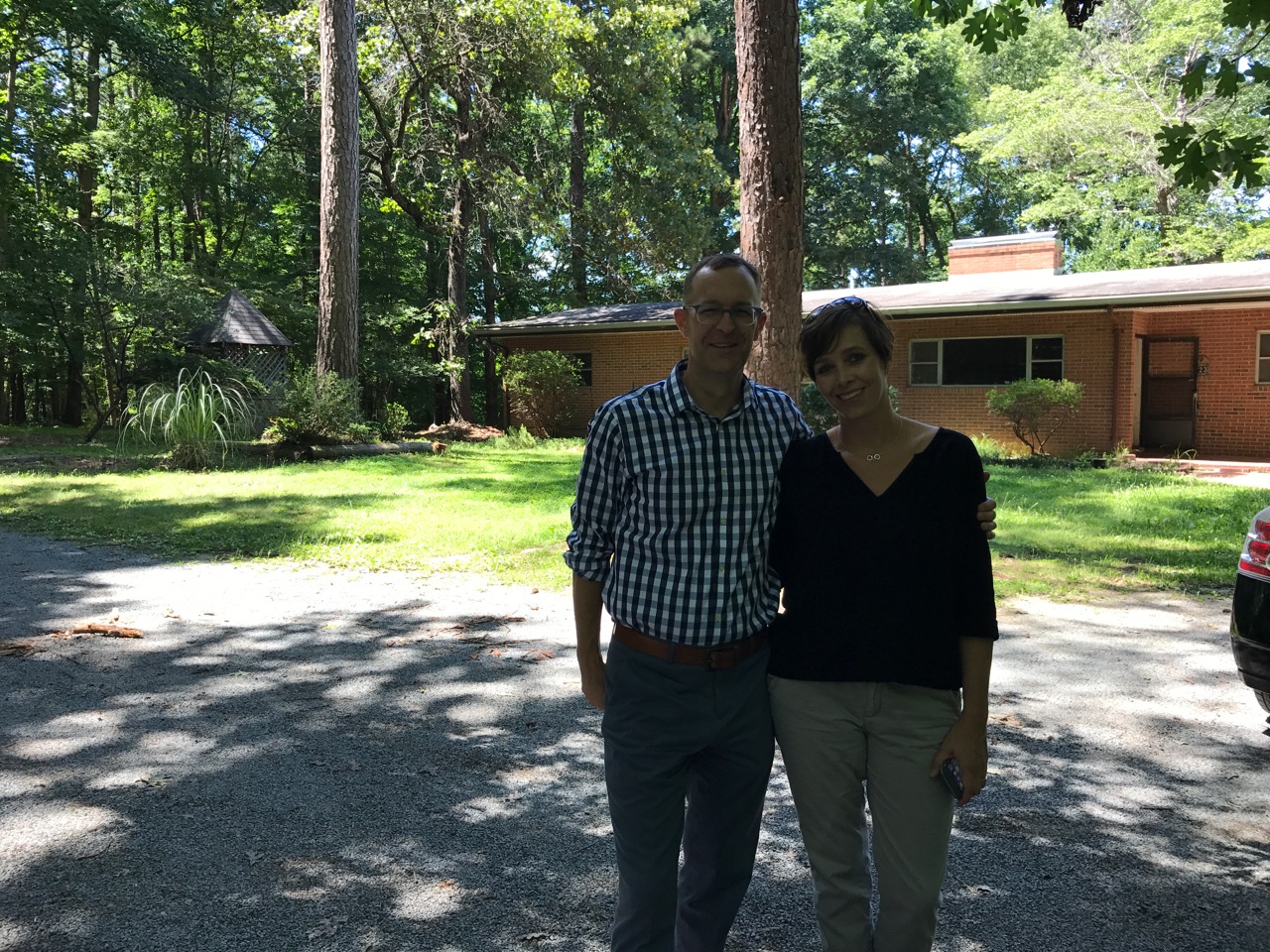 Seven years ago, soon after turning 40 and welcoming my son, Oliver, to the world, I took a new job at Duke, as communications director for the Department of Medicine. A few days before my official start, I jumped in to help the new chair, Dr. Mary Klotman, prepare her first State of the Department presentation. I've helped with each state presentation since, including her final talk today. It was a fitting end to her tenure, and an honor to listen as she sang the praises of the many faculty leaders who make our department so stellar. Now she is Dean Klotman, leading the Duke School of Medicine. I'm staying with the department, eager to continue building on our communications successes; we'll be launching a new This Week in Medicine e-newsletter template, and sending out our first printed Alumni Report, in the coming weeks (we worked with Thinkso Creative, a NYC-based design agency).
Mid week, in the midst of preparing that presentation, a pause to join Erin to finalize the purchase of our new house. Actually, it's an old house, built in 1961, with plaster walls and terrazzo floors and gypsum roof, on 4.1 acres of wooded land in Chapel Hill, NC. Oliver wants a zip line, Erin wants a garden, Anna wants a dog, Malia wants a basketball court, and I want a little writing shed among the trees.
At work, the office of Dr. Mary Klotman, my boss and chair of the Department of Medicine for the past seven years, was emptied, cleaned, and repainted. Dr. Klotman has moved to the Dean's Office to be dean of the Duke School of Medicine. I'm staying put, excited to continue our various communications, web, alumni, and other projects, and to work with our interim chair, Dr. Joseph Rogers.
Last week, we emptied the house at 235 Legends Way and moved a street over to a townhouse, a one-year spot while we purchase and renovate an old house on four acres of land in Chapel Hill. My brother, Joel, and my in-laws, Dan and Joanne, came down to help with the move. Joanne cleaned out the fridge and freezer one day, on the lookout for the Ziploc bag with the anisakis worm I saved one night soon after we'd moved into that house.
The worm was long gone, but Joanne reminded me that that incident had inspired her to call her favorite Cleveland-area grocery store, Heinen's, and ask what they knew of anisakis in wild fish. The Rocky River Heinen's customer service desk connected her to the manager, and then to the fish department, and then the chain's head fish buyer called Joanne to explain how they candle their fish to check for quality and parasitic nematodes. Joanne and I are both reading Michael Ruhlman's new book, Grocery: The Buying and Selling of Food in America, which focuses on Heinen's as a way to explore the way food gets to our fridges and freezers. It's Michael, so it's a great read. I'm hoping we can get him back to North Carolina later this summer for a reading and other events at Duke and in the Triangle.
In college, I shopped at the Heinen's on Green Road; when Erin and I lived at Shaker Square, we shopped at the store at Chagrin Road. I wish we had a Heinen's here in North Carolina. We get Great Lakes Brewing Company bottles (and maybe cans soon), so why not have the best grocery store you could ask for? I'm ready—in the process of consolidating my many boxes of many papers and photos, I came across my Heinen's preferred customer card from the 1990s.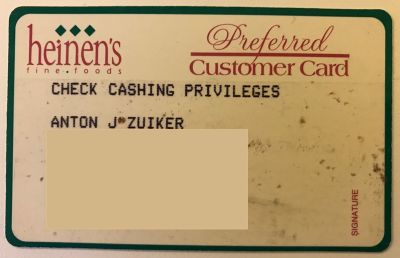 One night last week, I needed the exertion of a good run, but it was past sundown by the time I could get out. I consciously left my flashlight at home, though, and headed out into the dark streets around my neighborhood. After my turnaround, headed back down the road, I noticed a car had slowed to a stop at least 20 yards before the next stop sign. I stopped short. The car started moving again, and in its headlights I saw a writhing shape. Carefully, closer, and a snake was dying in my path. It was too dark to determine what kind of snake, so I moved around it and ran home in the middle of the road.
The next day, driving up the road, I slowed to look. The flattened copperhead was there, right where it would have bitten me if that car hadn't intervened just in time.
The lesson: take your flashlight when running after dark, especially in the spring when you know the snakes are slithering about.
This weekend, hundreds of thousands of people — including my father in Honolulu — marched for science or gathered for science festivals (on the Tar Heel Ten Miler race, we ran past the tents and tables being set up for the UNC Science Expo) across the nation. Erin and the girls and I gathered in our living room to celebrate science another way.
After today's Sunday meal, and once Oliver was tucked into bed with a newly liberated tooth under his pillow, we watched the HBO adaptation of The Immortal Life of Henrietta Lacks, by Rebecca Skloot. Rebecca's book is a must read, and the movie — starring Oprah Winfrey as Henrietta's daughter Deborah Lacks — was really good, raising quite a lot of discussion topics for us to tackle at future Sunday dinners.
At ScienceOnline'09, Erin and I heard Rebecca read a couple of spell-binding chapters of her book before it was published. Here's what I noted in my annual thank-them post-conference blog post:
Rebecca Skloot couldn't join us last year, but with her book finally drafted and off to her publisher, she was game to come to RTP this year to attend ScienceOnline'09 and keynote the Women in Science and Engineering networking event Friday night at Sigma Xi. Erica Tsai, Phoebe Lee, Ana Sanchez, Amrika Deonarine and Rachel Witek put together a fantastic event, and Skloot's talk about the immortal contribution of Henrietta Lacks to science was riveting.
Last night, I joined some neighbors at a brewpub in Durham, and met an Irish microbiologist who studies antibiotics and Staph. aureus. I didn't think to ask him, but I bet he's used HeLa cells in his research. Next time, I hope we'll raise a pint together. "To science, and Henrietta Lacks."
We will be closing on this house this Friday, and after two months renting from the new owners, we'll move to Chapel Hill. (Update to come about the new purchase and where we'll be in the interim.) We're already sorting, discarding, packing, boxing, and stacking.
One decision I've been putting off for weeks: should I continue to save the collection of Saveur issues that I've been saving since 2000. See the photo in my Coconut Wireless blog post from 2012. Since most of my favorite recipes from that travel-and-cooking magazine are included in the Saveur cookbook, I'm inclined to toss the old issues. But I will renew my subscription. I hear the new issue includes an article by my friend, Michael Ruhlman, about eating in Ireland.