Update on my earlier post, Voices and stories — the Voices of Medicine storytelling show on the evening of February 28 was a success; and, that morning, I was informed that my Voices of Duke Health listening booth and podcast project was funded. So, a good day, and momentum for our narrative medicine focus this year. More to come, surely.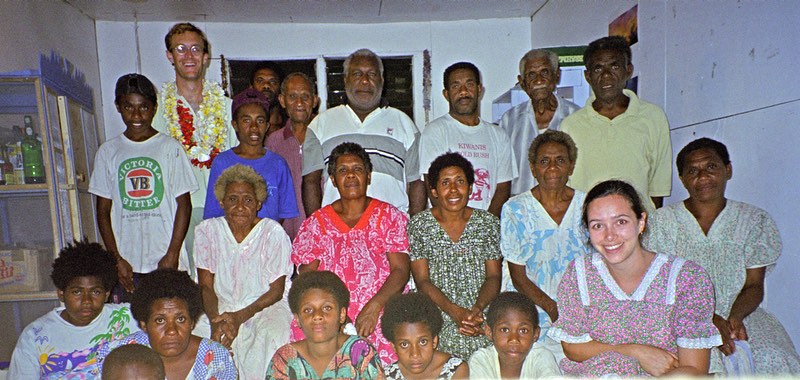 "Dad, will there be a hurricane when we visit?" Oliver asked this morning while we waited for his school bus.
"No," I said.
"Why not?"
"It won't be hurricane season any more."
We were talking about hurricanes because Cyclone Hola had just spun across the middle of the Vanuatu archipelago, including Paama Island, where Erin and I had served as U.S. Peace Corps Volunteers. (The South Pacific tropical cyclone season runs from November to April.) Oliver was asking about hurricanes and Paama because we are taking a family trip to the Republic of Vanuatu this summer, nearly 20 years since Erin and I arrived to learn the language (Bislama), to be introduced to the culture (Melanesian), to live and work in a welcoming community, and to be a representative of the United States of America.
The archives of my mistersugar.com blog, which I started writing in early 2000, are filled with posts about our experience in Liro Village. If you don't know, it was fabulous: nearly every day, amid the blue ocean and green palm trees and blue skies, I would turn to Erin and say, "We are Peace Corps Volunteers in the South Pacific."
And in the 18 years since we departed Vanuatu, Erin and I have talked often about our memories of Paama (and the other islands we visited, including Malekula, Maewo, Espiritu Santo, Ambrym, Epi, and Lopevi). As our own children arrived and have grown, we've shared stories and photos of the extended family on Liro, pictured above, who made our time there so memorable. We've been saving up ever since, and now we get to return to Liro with our children—we've purchased our tickets, and we are super excited.
We'll fly to Sydney, Australia, and spend a few days walking that city and riding the ferries in the famous harbor. Then it's on to Port Vila, the capital of Vanuatu; a smaller plane to Paama to reconnect with our Liro family; an overnight trip to Tanna Island to see Yasur volcano; and back through Sydney en route to our home in North Carolina.
It'll be a two-week trip — a whirlwind after all.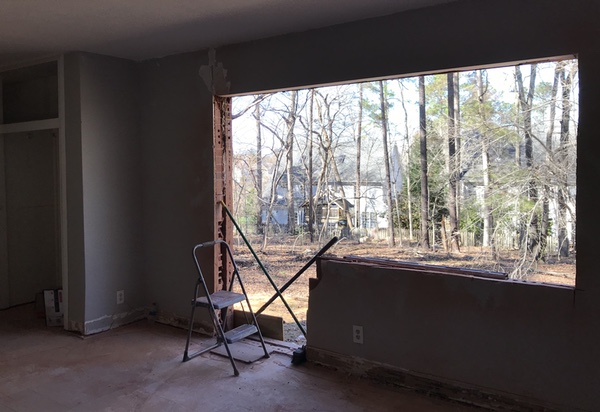 Another Saturday night, another date night with Erin. First dinner — tonight at Babalu for lobster tacos — and then to Lowe's (other nights it's The Home Depot) to review options for our house remodeling. We reviewed kitchen faucets, vanity mirrors, and carpeting tonight. Tomorrow we have to make decisions on the rainfall shower head for the master bathroom. On Monday, we'll have to sign off on the kitchen layout and cabinets.
It's been a while since I posted about the house that we bought last June. We're a few months into a full-bore remodeling project. We hired a contractor, the house was gutted, the old oil-heating unit was hauled out from the basement, the carport was framed in to make a new office space for Erin and a side entrance/mudroom/laundry, the living room and master bedroom will have new doors out onto a new deck, and all the windows are being replaced. In less than two months, the project should be done.
I've been up to the house every few days over the last months. I walk through the rooms, checking on the progress and envisioning the project finished and the structure our home. Some days I'll spend an hour or two raking leaves or digging out shrubs or gathering up fallen tree limbs and branches. And nearly every time I'm up at the house, I walk out into the back acres. I love to just wander back there among the tall oak trees. A couple of times, I've put up a couple of hammocks, and the children and I take turns gently swinging with view up to the Carolina blue sky.
Today, out there on the back slope by myself, I was filled with joy, happy for my family, and deeply in love with Erin, a perfect partner for this long-sought project. Our decision list is long yet, which means more date nights on the horizon.
I never heard his voice, but the words of Dean Allen were an early inspiration to my blogging. Dean wrote at Textism.com, and then created Textpattern, the content management system that I use to run my blogs. When he started the hosting service Textdrive, I became one of the original subscribers (I was #20 on the original VC200). Dean sent me a t-shirt, and one of his Textism calling cards, with a short note written on the back. Dean eventually disappeared from the Web, and I sensed he was living his life in the best way he could, as difficult as it could be. Dean died last month. I'm sorry I will never get to speak with him, but I'm inspired anew to put pattern to my own words and speak up. Thank you, Dean.
At Duke, my proposal for a Voices of Duke Health listening booth, patterned after StoryCorps, is gaining steam. I was one of 18 finalists invited to present my idea, in just 5 minutes, to the health system leadership for pilot grant funding through the Duke Institute for Health Innovation. The plan is for our listening booth to provide material for a podcast similar to Ear Hustle. (Update — Voices of Duke Health has been funded!)
In the Department of Medicine, we're planning another Voices of Medicine storytelling show for February 28, with a theme of humility. This show is part of a year-long Duke Narrative Medicine Colloquium I'm leading to connect all those at Duke with an interest in writing, storytelling, and other activities.
And at home, Anna worked for months on a family history project for school. That included interviewing her grandparents. Anna inspired me to rebuild the online genealogy, which I'd let lapse many years ago. It's back up, at tree.zuiker.com. I'm hoping to include some of the audio interviews Anna and I have done recently.
In between Hamilton sing-a-longs, I've been listening to Gathering, the new album from singer-songwriter Josh Ritter. One of Ritter's new tracks is Train Go By, which he performs in this recent video from a pre-release concert:
This afternoon, on my way home from a flat white at Gray Squirrel, I was stopped at the intersection in Carrboro near the train tracks that only rarely see a locomotive pulling a car or two. When we first moved here in 2001, little Anna and I would watch the locomotive pull cars of coal to the UNC power plant, but the university has since upgraded to a cleaner source of energy. Anyway, Train Go By was playing in the van as I crossed the tracks, and I had a flashback to my childhood in Caldwell, Idaho, where we'd often be stopped at the tracks in the family's Oldsmobile station wagon as a Union Pacific train of a hundred or more cars rolled click-clacking by on its way across the state.
Later, when Erin and I lived in Vanuatu, I talked about those trains with our fellow Peace Corps Volunteers Pat and Doug Clegg, who were from Nampa, the next town over from Caldwell and where I had gone to school. Doug worked for Union Pacific for many years before retiring and joining the Peace Corps.
And now Erin's sister, Katherine Shaughnessy, lives in Boise, where she's continuing to make art and where her husband, Tom Michael, is general manager of Boise State Public Radio. Katherine caught Josh Ritter promoting his new album at a Boise music store last month.
"You've seen him, right?" she texted me.
"Many times," I replied. "Taking the girls to see him in a few weeks at Cat's Cradle."
Cat's Cradle, by the way, is right next to the Carrboro train tracks.